Ten - Hut!
by Maria Dibble
I'd considered writing an editorial expounding on my outrage at yet another late state budget with no end in sight, but decided that such an effort would be wasted, and would only mirror what I'm sure you are feeling on the subject.

Instead, I bring you some great news! At least the news is great for people with disabilities. It may not, however, be so welcomed by public officials, or by programs that owe their existence to oppressing and exploiting people with disabilities.

In October, STIC will receive funds to hire a part-time Systems Advocate who will be part of a statewide network of advocates employed by each of the 41 Centers for Independent Living and/or their satellites. The purpose of this network is to focus on the development of a statewide disability policy that is consistent across all state agencies and promotes the integration of people with disabilities into all aspects of their communities. We will work for the eventual elimination of programs that exploit and segregate our neighbors with disabilities and we will make our priorities drive policies, not the interests of bureaucrats or corporate America.

Such a network will rely on the active support of people like you, committed volunteers who would be willing to work on issues, make phone calls to legislators, attend rallies, write letters, etc. Not everyone has to do all these things, but each one of us doing our part would create a very powerful and irresistible force to be reckoned with. We will offer training opportunities and provide guidance to our core of advocates so that they can feel comfortable and be knowledgeable about issues. Imagine 41 centers recruiting 50 volunteers in the first year, and volunteers recruiting friends, family members, etc. thereafter. The pool of advocates will quickly grow very large and our issues will never again have to take a back seat to better-funded constituents or fall victim to political chicanery.

All of us have something to contribute to advocacy. If you're interested in becoming a volunteer advocate in the fall, give me a call.

Folks, our time has come! We will never again be treated like second class citizens! Together we can do just about anything. It will take some time, it will be work, but it will also be empowering, satisfying and fun! Join the Advocacy Army now!
Find the Facts!
Win $25.00!
At what age did Tina Cartrette start living in care facilities?

The answer to this question is somewhere in this newsletter. All correct answers (as found in this newsletter), postmarked on or before July 15 , will be entered in a blind drawing. If your answer is drawn, you'll win $25! STIC staff, board members, and their immediate families or households are not eligible to win.

Send your answers to:

STIC
24 Prospect Avenue
Binghamton, NY 13901

Congrats to Our Previous Winner!
Agnes Clark of Endicott
---
MOVING?
Give us your
CHANGE OF ADDRESS!

Don't go without your AccessAbility
AccessAbility
June 2001
EDITOR IN CHIEF: MARIA DIBBLE
EDITOR: KEN DIBBLE
AccessAbility is published seasonally (Spring, Summer, Fall, Winter) by Southern Tier Independence Center. Letters, information, descriptions of disability experiences and ads are always welcome. Deadlines are February 15, May 15, August 15 and November 15.
Our address is:
AccessAbility

Southern Tier Independence Center
24 Prospect Avenue
Binghamton, NY 13901
Subscriptions
Subscriptions are $10 per year (4 issues). Subscriptions are voluntary, but are greatly needed to help cover newsletter production costs. Use the form on the back to subscribe.
Advertisements
AccessAbility prints unclassified ads free for disabled consumers, unless they promote a for-profit business. For-profit businesses can advertise in AccessAbility, in Unclassifieds or a display ad, at our regular rates. Ask the editor for information.
Reprints
Any non-copyrighted information originating in this newsletter may be reprinted without permission. If you want to reprint an article or opinion piece, please credit AccessAbility and the author.
Authorship
All articles appearing in this newsletter are written by Ken Dibble except as noted.
Blast off for our
2001 Golf Odyssey!
Principal Tournament Sponsor:
Time-Warner Cable

Luncheon Sponsor:
Tammy Peters & Associates, Inc.

Sponsors: BSB Bank & Trust
Esserman & Pelter, LLP, CPA
Giant Markets
Lockheed-Martin

Tri-Cities Temperature Control
United Medical Associates

The 7th. Annual
STICKS for STIC Golf Tournament

August 9, 2001 8:00 am
Endwell Greens Golf Club

For more information:
724-2111 (voice/TTY)
STIC NEWS
Goes the Dawn
by Maria Dibble
I'm very sorry to announce that due to cuts in funding, Dawn Stone is no longer employed at STIC.

Dawn was an extremely hard worker, dedicated to the concept of total integration of people with disabilities into all aspects of their communities, and she was diligent in trying to further this philosophy. She will be missed.
Moolah Rouge
Spring has come, things are getting green, and it's time for STIC to get a little green, too.

Yup, it's that time of year again. But look at it this way: the sun is shining, birds are singing, the kids are splashing away in the pool, baseball is on the radio, a cool drink in your hand....now give us your money.

Well...whatever works for you.

We've been working for you all year long, striving for a Medicaid Buy-In, workable Self Determination, better ADA enforcement. We've lent you equipment, taught you new skills, and helped you deal with bureaucratic service systems. STIC has had some real successes in recent years, and we've grown a lot. That doesn't mean we don't need your support any more. Most money comes with strings attached. Yours doesn't, and that's what we use to take a stand and fight for your rights, your hopes, your dreams.

So, please, if you haven't already, dig that envelope out of the desk, fill out the form, and send us your tax-deductible donation.

If you prefer to give at work, you can make STIC your "donor choice" for United Way or SEFA this fall. If you work for IBM, it's a bit more complicated. IBM works through a different United Way than the rest of the Southern Tier, and the computerized form doesn't make it easy for you to pick an organization that's not on their list. But you can do it; people do it all the time. Ask your supervisor for help, or your work location's campaign coordinator.

Be careful though. Don't spill that cool drink while you're getting out your wallet.
Save the Dates!
September 24 - 28

Job Coach &
Job Developer Training
with
Connie Farrell

STIC
24 Prospect Avenue
Binghamton

724-2111
(voice/TTY)
NEWS & ANALYSIS
ADAPT Doesn't Beat around Bush
from ADAPT press releases
Over 500 members of ADAPT, the nation's premiere grassroots disability rights organization, stormed Washington, DC in mid-May to gain meetings with the new Bush Administration and demand that the President make good on promises issued early in his tenure.
In early February President Bush issued his "New Freedom Initiative", committing his administration to assuring the rights and inclusion of persons with disabilities in all aspects of American
Life
. The Summary of Action in Part A, Title VI of the Initiative states: "President Bush has Committed to Sign an Order Supporting Swift Implementation of the
Olmstead
Decision. The order will support the most integrated community-based settings for individuals with disabilities, in accordance with the
Olmstead
decision."
"I don't know what swift means in Washington, DC," said Mike Oxford, State Organizer for ADAPT Kansas and Executive Director of Topeka's Independent Living Center, "but out here in the real world in Kansas, we don't understand why it's been more than 90 days and the President still hasn't kept his word to issue the order. It sure doesn't feel swift to all the folks who continue to be trapped in nursing homes and other institutions."
ADAPT also wanted Bush to back up the order with funding in the Medicaid and Medicare budgets to assist states to fulfill their legal obligation to implement the US Supreme Court's
Olmstead
decision. The
Olmstead
decision prohibits discrimination against persons with disabilities of all ages by segregating them in institutional settings when services and supports could instead be delivered in their own homes in the community.
"What it comes down to," said Bob Kafka, ADAPT Texas State Organizer, "is we want the President to be a man of his word."
In late May it remained to be seen whether Bush can be relied upon, but ADAPT certainly got some promising first results. Less than an hour after ADAPT activists lined the White House fence and displayed ADAPT's "Report Card on President Bush's First 100 Days", 16 ADAPT representatives were escorted through the gate for a meeting with John Bridgeland, Director of the President's Domestic Policy Council.
"The ADAPT Report Card had to give the President failing grades on disability issues for his first 100 days," said Barbara Toomer, ADAPT Utah State Organizer. "...it's been over 100 days since he committed to issue the Olmstead Executive Order. Without the order and some funding to help the states achieve the swift implementation he wrote about, President Bush's New Freedom Initiative remains a NO Freedom Initiative."
Two hours later, the 16 emerged victorious, accompanied by Diane Schacht, Special Assistant to the President for Justice Policy, who announced to the crowd that within 30 days the Executive Order would be completed and signed. Bridgeland punctuated the Administration's commitment by giving ADAPT his phone number and encouraging calls to check on the status of the order. In addition to Bridgeland and Schacht, the President's Special Assistant to the Director of the National Economic Council also participated in the meeting as an Administration representative.
Administration staff also committed to attend the meeting ADAPT planned to have with Secretary of Health and Human Services Tommy Thompson to coordinate the
Olmstead
implementation efforts. ADAPT is asking that the Executive Order direct Secretary Thompson to assist the states to swiftly implement , provide technical assistance to the states, fully enforce the Americans with Disabilities Act in regard to long-term care services, and to submit a budget that supports these activities.
Finally, ADAPT is demanding assurances that persons with disabilities and consumers of long-term care services, along with family members and advocates, are meaningfully involved in educating the public about their
Olmstead
rights, as well as educating persons who are in, or at risk of entering, a nursing home or other institution. "ADAPT has always worked on the principle of Nothing About Us Without Us," said Linda Anthony, an ADAPT organizer from Pennsylvania. "We expect to be involved in all aspects of
Olmstead
implementation in the states--from education to writing the state plan to evaluating the outcomes for individual people--and we are cautiously optimistic that President Bush and his staff are acting in good faith."
As you read this, Bush's 30 days are up; watch our website at
www.stic-cil.org
to see if he kept his word.
Assisted Suicide Watch
A wake-up call for people who think that prejudice against people with disabilities doesn't rise (or fall) to the same level of life-threatening nastiness as racism.

From the book Forced Exit by Wesley J. Smith, via the Washington Times:

"John Campbell's teen-age son, Christopher, had been in a coma for three weeks because of brain damage suffered in an auto accident. When Christopher developed a 107-degree temperature, a doctor refused to order treatment, saying the boy's life was 'effectively over' and there was no point in treating the fever, according to Christopher's father. The doctor, fearing legal consequences, finally relented in the face of Mr. Campbell's angry insistence. Christopher survived and has slowly begun recovering from his injury."

"Between 1977 and 1982, 69 babies born with ... spina bifida were used in an experiment in which 36 received aggressive treatment and 33 were to get only 'supportive care'. All of the treated children lived; nearly all the rest died, most in less than two months. But four of those ... recommended for 'supportive care' survived--only because their parents refused to accept the doctors' recommendations and sought treatment for their babies."

From the International Task Force on Euthanasia & Assisted Suicide Update newsletter:

"Robert Wendland, 48, is not comatose, 'minimally conscious', in a persistent vegetative state, or terminally ill. He isn't even sick. What Robert is is cognitively disabled--the result of a truck accident that left him permanently brain damaged. He is not 'brain dead', a term his wife Rose has used to describe him, nor 'like a zombie' as a recent Time magazine article claimed after the reporter interviewed Rose.

Someone who is 'brain dead' cannot maneuver a manual wheelchair to a desired destination, write the letters in his or her name, paint pictures, play games or change TV channels using the remote control. But Robert can.

Yet Rose wants Robert, who receives his nourishment through a tube, to die and is fighting in court to have his food and fluids withheld...."

"Tina Cartrette, 29, has cerebral palsy and is mentally retarded. She has lived in care facilities since [age 5]. Staff at her most recent facility say that Tina could recognize her name and track their movements with her eyes. She gets most... food and fluids by tube.

Last year, when Tina contracted a urinary tract infection, she ended up in the hospital with a high fever that triggered seizures. The drugs used to stop the seizures also depressed her breathing, so she was temporarily placed on a respirator. Once the crisis was over, her mother and legal guardian, Dianne Arnder--who lives 100 miles away and only visits Tina two or three times a year--gave the OK to take Tina off the respirator. When Tina began to breathe on her own, her mother then ordered that her food and water be withheld. Tina is neither terminally ill nor in a persistent vegetative state. Tina went several days without food, fluids, and antibiotics before a state agency for the disabled intervened. After a hearing in North Carolina's Mecklenburg County Superior Court, Dianne Arnder was removed as her daughter's legal guardian, and Tina's food and fluids were reinstated."
Bushwhacked?
President Bush says he supports the ADA and wants to enforce it. If that's true, then he needs to get a clue about appointing federal judges who aren't actively hostile to it. Two of his first round of judicial appointees are on record as regarding all or part of the ADA as unconstitutional. Jeffrey Sutton, whom Bush has appointed to the 6th. Circuit Court of Appeals--one step below the Supreme Court--was the attorney for Alabama in the Garrett case who tried to get the Supremes to declare Title II unconstitutional. Terence Boyle, another Bush appeals court appointee, is now a federal district court judge. In one of his decisions, he said the ADA as a whole is "an inappropriate attempt by Congress to exercise its powers under the Fourteenth Amendment" and "At least as concerns the public accommodation provisions at issue here, the ADA would force States to single out disabled individuals for advantageous treatment. This is not within Congress' power under the Fourteenth Amendment's Equal Protection Clause."

All of Bush's "New Freedom" rhetoric will be meaningless if he appoints federal judges who will destroy the ADA. Bush claims that what Sutton said on behalf of his paying client, the State of Alabama, doesn't necessarily reflect his own views. However, Sutton has made a practice of soliticing, and traveling around the country to defend, 11th. Amendment "sovereign immunity" cases like Garrett in federal courts. Bush hasn't had to defend Boyle because, unlike with Sutton, the disability community has not taken a public stance on Boyle's even more radical ADA-threatening views.

We hope ADAPT and other national advocates will take a closer look at this and redirect their energies accordingly.
Individuals with Disabilities Education Act:
Still a Whipping Boy
For several years now, some members of Congress have claimed that the Individuals with Disabilities Education Act (IDEA) requirements that schools continue to educate students whose disabilities involve behavioral issues, and that they employ due process when disciplining them, unfairly tie the hands of teachers and school administrators, require more lenient treatment for students with disabilities who misbehave, and threaten the safety of school employees and other students. They have proposed several amendments to remove those requirements from the law. Each time, they have been beaten back by knowledgeable and determined advocates.

Then, on January 25 of this year, the General Accounting Office (GAO) released its report, Student Discipline: Individuals with Disabilities Education Act. This report, requested by both the House and Senate, was based on surveys of 272 middle and high schools from across the nation. Contrary to the claims of IDEA's opponents, the report found that:

A. Students with disabilities are punished the same way as nondisabled students for violent acts.

B. One out of every 6 students, disabled or not, who commits violence is either expelled or placed in an "alternative school".

C. 74% of the principals who responded said their special education discipline policy had either a positive or neutral effect on orderliness and safety in their schools.

As we all know, though, politicians rarely let facts get in the way of a good publicity stunt. So, in May Senator Jeff Sessions (R-AL) proposed two amendments to IDEA. One would give state or local educational agencies the authority to establish and implement uniform discipline policies for all students, essentially gutting IDEA's discipline provisions. The other amendment would add assaults or threats to assault a school official and threats to carry, possess or use a weapon to existing IDEA discipline provisions, significantly expanding the circumstances under which students with disabilities would be removed from their educational setting and placed in alternative settings or expelled from school.

While these may seem like common-sense provisions, it's important to understand three points:

Students whose behavior problems result from disabilities such as head injuries, mental retardation, or mental illness simply do not respond the same way to certain forms of discipline as nondisabled students. So disciplining them the same way, while on its face "equal treatment", in fact is not equal treatment because it produces predictably unequal results.

Students with behavioral disabilities who make "threats" are far less likely to carry them out than nondisabled students, and these proposed amendments play into the hands of prejudiced teachers and school officials looking for any excuse to get children with disabilities out of their classes and schools. If you don't think there are such bigots in our schools, just spend some time talking to virtually any parent of a school-aged child with a disability in the Southern Tier.

It is counterproductive to reward a child who acts out in order to escape a stressful school situation by taking him out of that situation. A properly-managed school environment uses special education resources to provide enough support to students with disabilities in ordinary classrooms to manage violent behavior without rewarding it.

Action, up or down, was expected to be swift on these amendments. This may just be yet another bit of political grandstanding for a certain audience, or it may be more serious than that. We'll keep you posted.
Medicaid Buy-In:
Hostage to Foolishness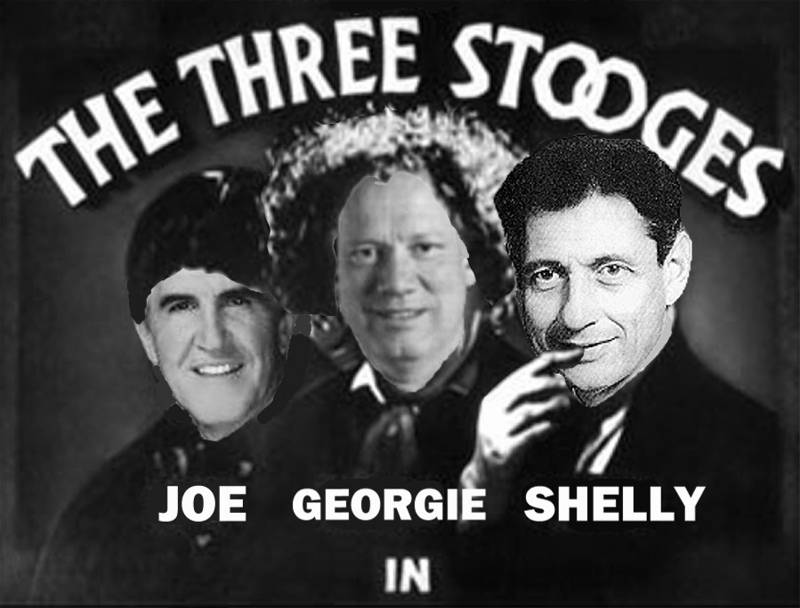 The Medicaid Buy-In bill was stalled in the Senate in late May, but with New York State's closed-door politics, the problem isn't just in that house.

Background first: The way our government is supposed to work is, the Governor proposes a budget and the Legislature either accepts it or makes changes, then passes a budget bill. The Governor either signs the bill or vetoes it, and the Legislature either lets the veto stand or overrides it. Either the Governor or the Legislature can propose legislation, and once proposed, it goes through the same process.

However, New York allegedly has a "part-time" legislature, which means lawmakers spend 5 or 6 months in Albany supposedly legislating, and the rest of the year in their home districts fundraising and campaigning. For this, they are paid what most people would call pretty good full-time salaries of around $60,000 (plus bonuses, perks, and expense accounts), even though most of them do no legislative work beyond casting the votes their leaders tell them to cast. In the Senate, they don't even need to be present to vote--a Senator can sign in in the morning, leave the Senate Chamber, and automatically be recorded as voting his party's position on any bill that comes to the floor that day.

This "part-time" schedule mixes up the process of legislating with the budget process much of the time, and since nobody wants to stick around to override a veto, it also encourages the Assembly and Senate leadership and the Governor to try to negotiate agreements on everything before anything is passed. The very undemocratic result is, New York State's laws and budgets are decided by just three men: Governor George Pataki, Senate Majority Leader Joseph Bruno, and Assembly Speaker Sheldon Silver.

None of these men like each other, not even Pataki and Bruno, who are both Republicans, and they all are prone to letting personal feelings overshadow professional responsibilities. The main reason why nothing has happened this year is that somebody in one party childishly insulted a member of another party, and as of late May, nobody is talking to anybody. The budget delay has nothing to do with philosophical or financial differences between parties or houses. What's happening is nothing more than a ridiculous, highly-personal shoving match, paid for with tax dollars.

There are two kinds of bills in New York: serious and show. Show bills get passed by one house or the other with a lot of public fanfare. Then they die, because they were not agreed to in advance by the Big Three. The house that passes them knows they are DOA; they are strictly for show, to get voters to believe their elected officials are fighting the good fight. This year's new twist is one-house "conference committee" meetings called by the Senate; like show bills, their sponsors know them to be jokes staged for the purpose of embarrassing the other party. The serious bills include most of the Governor's program bills (legislation he proposes along with his budget plan) and other bills that the three leaders have agreed in advance to pass.

Since the Democrats control only one house, they have no incentive to pass anything serious without prior agreement, because Pataki will just veto it. The Republicans say publicly, "Well, the voters have given us the majority, so that must be what the voters want." But that is just for public consumption; Republicans know that if Democrats can't get at least some of their pet projects passed, the voters, most of whom are registered Democrats, will get angry and either elect a Democratic governor or overturn the Republican Senate majority. And as long as Pataki and Bruno don't get along, there is also a real danger that Pataki will veto Republican budget add-ons; he's done it before. So both parties have an equal need to negotiate.

What does this mean for the Medicaid Buy-In? The Buy-In is serious; one version is a Governor's program bill, and all three leaders have said a Buy-In should be passed. But, because nobody is talking, there has been no negotiation on a final bill to resolve the differences between Pataki's proposal and the version passed by the Assembly. An identical bill to the Assembly version is sitting in Senate committees, and some important and influential committee chairpersons strongly support it, including the Southern Tier's Senator Libous, but even Senate committee chairs with lots of seniority do nothing without orders from Bruno. Nothing moves until the Big Three agree to move it.

The differences between the Governor's and Assembly bills are significant. We've covered this in detail before (AccessAbility, Spring 2001); the main points are that the Assembly bill applies to households with incomes up to 400% of the federal poverty level and assets of up to $40,000, while Pataki's bill only covers up to 250% of poverty level and assets of up to $10,000. However, compromise has always been expected, and those who will determine the final bill's language once the negotiation roadblock is lifted are willing to produce a decent package.

A major advocacy push for the Buy-In is now underway. During May members of a broad coalition of Buy-In supporters met with Senate committee chairs and leaders weekly to talk Buy-In; there have been phone-in days; and a rally in Albany was held in early June. Hopefully all this will have a good effect, but we won't know until our distinguished leaders put on their happy faces and make nice.
New York State's Model
Accessibility Building Code in Danger
by Stephanie M. Lawton, NYSILC
The New York State Uniform Fire Prevention and Building Codes Council has voted to reduce the accessibility required for people with disabilities in 98% of newly constructed apartments. The Council's decision will affect the new International Building Code (IBC) that New York State is planning to adopt in January 2002. In what has been called a "significant setback" to the civil rights of people with disabilities in New York State, the Council significantly reduced the accessibility that has been required for apartments in the Empire State since 1984. This action was taken during their last meeting in Albany on March 14.
Residential construction firms have been opposed to retaining New York State's excellent accessibility requirements for people with disabilities because of compliance costs. However, the IBC's Technical Subcommittee, which was formed by the Codes Council to review the differences between the new and existing code, had previously voted unanimously to retain those requirements.
Instead, the Codes Council opted for the IBC's Type B option, which is based on the Federal Fair Housing Accessibility Guidelines of 1991. Residential units built under this option have many structural limitations for wheelchair users and other people with disabilities including inaccessible doors, lack of maneuvering clearances in bathrooms and kitchens, and large habitable spaces that are not required to be accessible.
According to the Eastern Paralyzed Veterans Association (EPVA), requiring Type B Dwelling Units means that:
Wheelchair users won't be able to turn around in their bathrooms and kitchens.


Doors will not have to provide the adequate clear width needed for a wheelchair.


These same doors do not have to provide maneuvering space necessary for disabled people to position themselves before exiting rooms in their own apartment.


Appliances, laundry equipment and work surfaces within the apartment do not have to be accessible.
EPVA's Building Code and Standards Department has developed a detailed analysis of the differences between these types of dwelling units. Call (800) 795-3619 to get a copy.
Assemblyman Kevin Cahill, the new Chairman of the Assembly Task Force on People with Disabilities, has criticized the Code Council's decision and said he will pursue legislation to reverse it, if necessary. The NYS Office of Advocate for People with Disabilities has also come out against the change. Advocates are continuing to work on ways to convince the Code Council to rethink its decision and increase the percentage of accessible dwelling units that will be required in New York State.
RSA Workshop Rule Survives
As we reported previously, last year the federal Rehabilitation Administration (RSA) proposed a change to its rules for state vocational rehabilitation agencies that would make placement in a sheltered workshop unacceptable as a "rehabilitation outcome". Shortly after taking office, however, the Bush Administration announced it was putting several late Clinton Administration rules changes on hold "for review". RSA's change was one of those held up.

Just as we were going to press last February we learned that sheltered workshops had taken advantage of this opportunity to start a letter-writing campaign asking the Secretary of Education to undo the new RSA rule. We scraped up some room to include an "ALERT" notice in the Spring issue. We hope you saw the notice and responded by writing your own letters to support RSA.

If you did, you were part of a very successful advocacy action. RSA has announced that its proposed rule is now final. State VR agencies (in New York, that's VESID and CBVH) can begin implementing the rule immediately, and the rule will take effect for all VR agencies on October 1, 2001.

Workshops can still be used for temporary training purposes, and people who want sheltered work can still remain in them permanently, but the rehabilitation agency will only receive credit for a successful closure if the person obtains integrated work. STIC expects that, over time, VR agencies will strongly discourage and even completely eliminate workshop placements because such placements will have a negative impact on their "successful closure" rates. VR agencies consider closure rates to be a vitally important measure of their effectiveness, and poor closure rates can affect funding availability.

This is a great victory. However, knowledgeable activists point out that the Bush Administration has not yet appointed a new RSA Commissioner, and that any new person in that job will probably be assailed by workshop operators with demands for yet another review of the rule. So we will have to keep our eyes and ears open.
Self Determination:
Good as It Gets?
In April the national Self Determination pilot programs got excellent coverage in the weekly newsmagazine
US News & World Report
and on National Public Radio's nightly
All Things Considered
broadcast. The NPR story was accurate and positive, focusing on a person with very significant developmental disabilities whose life was strikingly improved after she left a group home and went to live with her twin sister with support from Self Determination.
In New York, OMRDD has completed final draft Self Determination Policies and Procedures and submitted them to the NYS Division of the Budget for approval. These documents contain some real improvements from previous versions, added in response to advocacy from STIC and other members of the Statewide Self Determination Task Force under the leadership of the Self Advocacy Association of New York State. However, they also contain some serious problems.
Improvements
A much more realistic description of the role of circles of support as being individualized based on the consumer's needs and not legally liable or responsible for participating consumers' lives.
A "contingency fund"--consumers who do not need to spend their full Personal Resource Account (PRA) allocation in any year will have the leftover amount reserved for them in a contingency account; these accounts will accumulate from year to year and the money can be used if the consumer's needs increase without getting special approval from Albany for exceeding the PRA category cap.
The amount of each PRA category was increased by 5% for inflation.
Problems
OMRDD's Policies and Procedures appear to violate their new HCBS Waiver Agreement with HCFA (the federal Health Care Finance Administration), which enables Medicaid funding for Self Determination. The agreement states that Medicaid funds can be used to support virtually any legitimate activity that assists a person with a developmental disability to live a fulfilling, meaningful life in the community. However, OMRDD's policies and procedures severely restrict use of the funds, to things like "vocational goals" and "adaptive" equipment. In practice, this may mean that people will not be able to use these funds for many things that the old HCBS Waiver doesn't already cover.
Self Determination participants won't be able to use both CSS-funded ongoing personal supports and State Plan Medicaid-funded homecare, on the erroneous assumption that using both of these very different services constitutes financial "double dipping".
People who want traditional residential or "day" services can't use Self Determination for them. That means they can't have an individual, portable budget and won't be able to use their control of that budget to demand service quality improvements from providers. This reduces Self Determination's potential to introduce market forces and competition into OMRDD service provision.
People who participate in Self Determination may be able to get the higher SSI amount ("Level II") that is available to people who live in group homes, but only with special approval by OMRDD officials, and only if they "need" it. Who among us who is living on around $500 a month doesn't need a raise to $900 a month? This is discriminatory under the ADA, which forbids state disability service agencies to run programs in such a way that they result in discriminatory treatment of different groups of people with disabilities (in this case, those who live in group homes and those who don't). People whom participants hire will be subject to Fiscal Intermediary (FI) personnel policies and procedures. FIs could impose unwarranted training, skill, experience and "liability"-related requirements, driving up costs to the point of impossibility.
Take a Chance
OMRDD's Self Determination program is still a big improvement over the old Waiver and other OMRDD services (except, perhaps, Individual Support Services, which may be phased out because they aren't Medicaid-funded). Broome Developmental Services officials also seem to be genuinely committed to being as flexible as possible within the limits of OMRDD policies; and they believe there may be work-arounds for some of the problems discussed here. In any case, STIC strongly believes that people need to try out this new way of getting services and supports and give feedback to help make it better. If there are no hardy pioneers for Self Determination as it is now, there will never be a bug-free "final" version for everybody to use.
Meanwhile, disability rights advocates will not let serious errors in OMRDD's Self Determination policies and procedures stand. Although the Statewide Task Force and the Self Advocacy Association have stopped advocating for improvements to focus on training and consultation for Self Determination participants, STIC is working with the statewide Independent Living organizations to take our concerns directly to OMRDD and HCFA.
By the time you read this, Broome Developmental Services (BDS) will have some potential applicants for the new round of pilots. This time, children will be eligible. We don't know if openings will still be available by mid-June. To find out, call BDS's David Mayo at (607) 865-6551. Also, the Statewide Task Force is planning a training conference for late July for service coordinators, consumers, and families. When we hear more, we'll post it on our website at
www.stic-cil.org
.
Students with Disabilities
Learn Their Lessons--
Will Schools?
The New York State Education Department (SED) recently released some information that confirms what STIC has been telling school districts for years: in terms of intellectual and scholastic ability, students with disabilities are just like everybody else.

As part of a package of education reforms approved by the state Board of Regents, SED has begun to require schools to apply uniform standards to all students, including those with disabilities. High school students must now all take the same statewide "Regents" tests in various subjects before they graduate. When they started giving the tests to students with disabilities instead of side-tracking them into "IEP Diploma" programs, guess what they found out? They passed them. What a surprise.

For example: according to a story in the Binghamton Press & Sun-Bulletin, the number of students with disabilities taking the Regents English exam statewide increased by 306%, and the number of those students with disabilities who passed that test increased by 279%. The number of students with disabilities who took the math Regents increased 264%, and the number of those who passed it grew by 218%.

And, just in case there are those who say, "Yeah, those are great statewide figures, but our kids here in the Southern Tier are different," get a load of this:

In the Binghamton school district, the number of students with disabilities who took the English Regents increased by 383%, and the number of those who passed it increased by 192%. In Norwich, the number of kids with disabilities taking the math Regents increased 138%, and the number of those passing went up 162%.

SED also reported that for the first time, New York State, and the Southern Tier, were near the national average in the number of students with disabilities who spend at least 80% of their time in regular integrated classrooms. That is great news, but we hope folks around here won't take it to mean they've done enough integrating. Those percentage figures will just keep going up the more kids with disabilities get a regular education and take the regular tests. And, of course, there are serious moral, ethical and social reasons, as well as performance-based ones, for integrating children with disabilities in our schools.
Supreme Court v ADA:
The Garrett Decision's Threat to
Disability Rights
As we reported last issue, the Supreme Court issued a ruling in Garrett v Alabama in February. It has taken some time to sort out what the ruling means, but better late than never.

The Court's 5-4 majority ruled that Congress had exceeded its Constitutional authority in letting citizens sue states for money damages for job discrimination under Title I (Employment) of the ADA. We've covered this case in detail in our last three issues and don't want to repeat too much here. Suffice it to say that this decision only applies to employment discrimination by state governments (not private employers or other governmental bodies), and that it only applies to collection of money damages. A person with a disability can still sue a state government for employment discrimination under ADA's Title I, win the case, and obtain "injunctive relief"--a court order to the state to stop discriminating against this and any other employees and, if anyone was fired, to reinstate them.

Some analysts think the Court may apply the same logic to Title II, which prohibits discrimination by state and local governments in the provision of goods and services to people with disabilities, with the result that only money damages will be disallowed. Perhaps. But the Garrett decision's language could be signalling something much worse.

It's not clear why the Court limited its decision to the money damages issue this time; the State of Alabama also challenged Title II, and the Court originally agreed to address that as well, but in the final ruling it reversed the decision to grant "certiori"--a hearing--on that issue as "improvident". There was speculation that this was the result of a deal made with Justice O'Connor in return for her support of what became the majority opinion (see below). In any case, while declining to formally rule on Title II at this time, the majority laid out a frightening analysis of the constitutionality of any federal law, not just the ADA, that regulates state conduct concerning people with disabilities. That analysis goes far beyond whether the 14th. Amendment can be used to let people sue for money damages.

The Court has long held a concept of "suspect classes"--groups of people who are so likely to incur unfair discrimination that different and beneficial standards should be applied to them. Regardless of what Congress does, the Court makes its own decisions about who deserves to be in a suspect class, because it believes Congress should have more freedom to use the 14th. Amendment to regulate state governments when a suspect class is involved. It considers black people to be a suspect class, but has resisted applying that concept to other groups, such as elderly people. In Garrett the majority said that when dealing with people who are not in a suspect class, state governments only have to behave "rationally". For example, a state government might "rationally" refuse to accommodate employees with disabilities simply because it may cost a little more. Further, the Court said states don't have to prove that what they do is rational; challengers of a state's action must prove it isn't. And lastly, the Court said that it, not Congress, has the final, unchallengeable authority to decide who really needs protection from discrimination by state governments and who doesn't.

A previous ruling that the Court cited as precedent for rejecting Garrett's suit had worked to the (at least commonly-perceived) benefit of people with disabilities. In Cleburne v Cleburne Living Center, Inc., the court ruled that people with disabilities are not a suspect class and that "Mere [unsubstantiated] negative attitudes, or fear" did not create a rational basis for restricting the development of group homes. Therefore, the City of Cleburnec could not require special permits for group homes for people with disabilities when it didn't require such permits for similar places like dormitories, multi-family dwellings and nursing homes.

In Garrett, Justice Breyer's dissent argued that the majority view would let states discriminate against disabled employees out of fear or negative attitudes like those in Cleburne. Yes, said Chief Justice Rehnquist, it works both ways: if unrealistic fears or attitudes are not a good enough reason for discrimination, then even if it can be shown that state officials held them, they are not a good enough reason to claim illegal discrimination if there is also a "rational" basis for the state's action. Then, by saying that states need not provide any explanation for a discriminatory act at the time it is committed, and placing the burden of proof on the challenger, it gave states a green light to come up with a "rational basis defense" after the fact even if the discrimination really was based solely on fear or negative attitudes. And finally, incredibly, the majority proclaimed that the 14th. Amendment's entire Equal Protection clause--not just the part relevant to overriding the Eleventh Amendment's prohibition on suits for money damages--simply can't be violated by a state as long as what it does to people with disabilities is "rational".

So while Garrett is clearly only about suits against states for money damages, it may signal the outcomes of future cases about whether Congress can tell states how to deal with people with disabilities, not only for the ADA but other federal laws. The Court's sweeping pronouncements about suspect classes and the Equal Protection clause imply that this Court will never uphold any attempt by Congress to regulate the states in this area, and it's only a matter of time before sharp state Attorneys General bring enough cases to get Title II completely dismantled.

There was speculation that to get Justice Sandra Day-O'Connor's consent to the ruling, the Court agreed not to take on Title II right then. However, a few days after it issued the Garrett decision, the Court announced that it would refuse to hear a Title II challenge concerning a prisoner with a visual disability who claimed that an Illinois state prison did not properly accommodate his needs. The Appeals court had ruled against him on the grounds that Congress had not justified its abrogation of the 11th. Amendment in the ADA, and the Supreme Court declined to hear his appeal--which means that in Illinois and surrounding states, Title II is already unconstitutional.

(The Casey Martin case, however, suggests that the Court's attitude simply reflects its ongoing activist States' Rights agenda. Martin, a pro golfer with a disability, sued under ADA's Title III Public Accommodations section to be allowed to use a golf cart in PGA tournaments, where golfers usually must walk. The Court recently ruled 7-2 in favor of Martin, finding that use of a cart would not "fundamentally alter" the game.)

We may soon know if the Court will apply its views to other federal laws. Arkansas has asked for review of a case called Arkansas Dept. of Education v Jim C., concerning whether Congress exceeded its authority to regulate state governments in passing Section 504 of the Rehabilitation Act, which forbids any entity that gets federal money to discriminate due to disability. The Court will decide whether to hear this case some time in June.
Task Force News
With the departure of Dawn Stone, the Southern Tier Regional Self Determination Task Force's leadership is in transition. It will have held another meeting by the time you read this, but in late May we were unsure of its future plans.
For the group to have value and credibility as an advocacy, training and technical assistance forum, it needs to have active members who are not STIC employees. If you're interested, check our website at:
www.stic-cil.org
Tsk Tsk ... Jerry, Jerry, Jerry...
With Labor Day just around the corner, we thought you'd be interested in Muscular Dystrophy Telethon host Jerry Lewis' latest views on what it means to have a disability in America.

In an interview on CBS Sunday Morning in May, Lewis was asked about disability activists who have a problem with the telethon and his behavior on it. Lewis said:

"Pity...makes us some money ....You don't want to be pitied because you're a cripple in a wheelchair? Stay in your house!"

Just makes you want to rush out and donate, doesn't it?
What about the Rest of It?
New York's Centers for Independent Living (CILs) had several other items on their 2001 Action Agenda besides the stalled Medicaid Buy-In. What are our elected officials doing about them?

Most Integrated Setting

The Supreme Court's Olmstead decision suggested that states can avoid lawsuits by developing formal plans to get people with disabilities out of segregated programs and into the most integrated settings that meet their needs. The federal Department of Health and Human Services has told state Medicaid Directors that they should develop such plans. But those instructions haven't been good enough for New York. Advocates have met repeatedly with NY Department of Health officials and other state agencies to try to get a plan developed. So far there have been no results. For two years the CILs' second highest priority has been to get a law passed requiring all state agencies that provide services to people with disabilities to produce a joint comprehensive long-range plan to end the institutional bias of our state's disability service systems and integrate our people. One-house bills to do so have been passed by the Assembly. Binghamton's Senator Libous, however, who chairs the Senate's Mental Health and Developmental Disabilities Committee and the Select Committee on People with Disabilities, and is arguably the most influential state official in this field, strongly opposes any such law. Result? No action.

Increase Supported Employment Funding

The state estimates that several thousand people want to and could leave sheltered workshops and get real jobs, if only there were enough program "slots" available to assist them. Those people would pay state income tax and reduce their dependence on welfare handouts enough to more than cover the program costs. However, instead of increasing funding, Governor Pataki's budget proposal cuts the $1 million increase that VESID got last year for this purpose. Probably the Legislature will get that amount restored in the final budget agreement, but don't look for any increase again this year.

Fund CILs to Help Students with Disabilities Transition from School to Life

Federal law requires schools to assist students with disabilities to plan for the future, get higher education or jobs, and move into their preferred living situations. Unfortunately, the feds don't provide a lot of money for this, nor does our state. Many school districts just hand off kids with disabilities to sheltered workshops, congregate day programs, and group home operators, and many others don't do anything at all. What is the state doing? Well, there's no interest in the Legislature in this proposal. For a while VESID funded 3 CILs, including STIC, to demonstrate how to do transition well. But now it's taking the money from those CILs and giving it to 3 more--not because the first 3 failed, but because they succeeded and it's "time to give somebody else a chance". Commendable, but what happens to the kids the first 3 CILs were working with? They get tossed back into their ineffective or nonexistent school district transition programs, that's what.

Repeal Kendra's Law

"Kendra's Law" was passed a few years ago to provide "assisted outpatient treatment"--eaning, usually, forced medication--to people with mental disabilities who are found by a court to be "a danger to themselves or others". It got its name from Kendra Webdale, a woman who died after being pushed in front of a subway train by a man with a mental disability. At the time, it seemed that passage of the law was simply an act of panicked bigotry. Dispassionate data indicated that people with mental disabilities are actually less likely than the average person to engage in violent acts, and the man who killed Kendra, far from refusing treatment, had requested it several times from several agencies and been denied. However, it turns out that the law's passage was part of a wave of forced-treatment campaigns that has surged through many states. All the campaigns have had one thing in common: they have been spearheaded by lobbyists for state chapters of the National Alliance for the Mentally Ill (NAMI). NAMI claims to be an organization mostly of parents of people with mental illnesses who are anguished and concerned for their children. However, investigative journalists have learned that NAMI gets a great deal of its funding from drug companies that obviously have a lot to gain if states start forcing their citizens to take drugs. CILs are opposed to Kendra's Law because forcing people to take drugs against their will is not only a violation of human rights, it's a violation of the New York State Constitution, which forbids forced medical treatment. However, between the rivers of NAMI drug money flowing into political coffers and the way the media misrepresent the facts in cases like Kendra's, nobody wants to touch this one with a ten-foot pole.

Require State and Local Government Programs and Public Accommodations to be Accessible

Given the raggedy state of the ADA and the Supreme Court's apparent terminal hostility to it, it would be smart to make parts of the ADA New York law. Two such bills have been written. One echoes ADA's Title II prohibition on discrimination against people with disabilities by state and local government; the other requires "public accommodations" (businesses and not-for-profit agencies) to be accessible according to the ADA's Title III standards. Unfortunately, the second bill is going nowhere. The first bill has been introduced in the Assembly but advocates have been unable to get a Senate sponsor. Senator Libous is opposed to this one too. He also opposes a bill proposed by Assemblyman Luster (D-Ithaca) that would waive New York State's 11th. Amendment "sovereign immunity" for ADA cases, claiming it would be "bad for localities". This makes no sense at all. Only state governments have sovereign immunity. The ADA already requires "localities"--counties, cities, villages and towns--to comply with Title II, and even the Supreme Court majority in Garrett virtually admitted that it has no problem with the federal government regulating localities below the state level. So these bills would not change anything for localities, but, like the most-integrated-settings bill that Libous also opposes, they would require state-funded or -operated programs to serve people in the most integrated settings regardless of what the Supreme Court does. Is there a pattern here?

Increase Funding for CILs

The Governor rescinded the $1 million increase that the Legislature gave CILs last year. There is agreement in the Legislature to restore that amount, but the future is dark for the remaining $1.6 million that CILs have requested: $500,000 to finish recovering $3 million lost due to inflation between 1990 and 2000; $285,000 for a COLA to address inflation in 2001; and $570,000 to extend the state's minimum funding base to 3 new CILs.
SELF HELP ISSUES & ANSWERS
Unsafe at Any Size
by Ken Dibble
For years we've been explaining how real integration in peoples' own homes can be at least as safe and secure as any other option, even if it does take a bit more work to set up and maintain. Still, people persist in believing that group homes are "safer", more "secure" and more "reliable". At least, those are the reasons people give for putting their loved ones in them instead of helping them live free in their own homes with appropriate levels of assistance and support. It's time to puncture the "security" myth. Life isn't "safe" or "secure", and anybody who tells you that it is, or that parts of it can be sectioned off and made so, is running a vicious con game. So if no life is safe, why not at least live a free and satisfying one?

People tell us, "Oh, but my [son/daughter] loves living in 'the house'!" Well, in our society most adults prefer living anywhere other than with their parents, even in the most tacky and dangerous of surroundings--have a look at a typical college student's apartment, for example--and that may be all that your child is telling you. In any case, it is clear that some people do not love it at all. For example, a local man was found dead outdoors several months ago. His death made the news, but what did not get widely reported was that he had a moderate developmental disability. He died because he had lived in group homes before, and he ran away from his family in terror when he heard them planning to send him to another one.

Some people believe group homes can be relied on to "always be there" for their relative after they are gone. Wrong. Here's a recent story from STIC's service area. Some unimportant details have been omitted or changed to prevent the guilty from feeling unfairly attacked; it could have happened in any group home in our region or anywhere else:

A lady moved into a group home a year or so ago. She had a boyfriend who, like her, had a developmental disability. This was a serious, consenting relationship for both of them, and one of which her parents approved. However, the house staff constantly interfered with her love life. Her normal physical contact with this boyfriend, including holding hands and kissing, was labeled "inappropriate sexual behavior" and was punished. Like any normal human being, she resisted this outrageous meddling and continued to do what she wanted with her boyfriend. The agency escalated its response, transferring her to a house with a higher staff ratio without her consent, and forbidding her to work any longer at the place where her boyfriend worked.

This, of course, was highly upsetting to the woman; so much so that she began to find it difficult to cope with other stresses in her life. She had repeatedly told various staff members that she wasn't happy with her situation, that she felt she had no choices, and that promises made to her were not kept. Nevertheless, at the new residence she was forced to live with a roommate not of her choosing and with whom she didn't get along. Eventually, the two got into an argument, and the woman, who, witnesses agreed, was severely provoked, struck her roommate. What did the "reliable" group home agency do? It called the woman's father and told him to come pick up his daughter right now because as of that very moment she was no longer allowed to live in their residences.

An emergency "placement", dozens of miles away from the woman's friends, family and employment, was found with another agency, and she is still sitting there today while the "system" gets its act together to get her the integrated individual apartment she wanted and should have had in the first place.

This is one of many stories we could tell, and will tell. It's time to draw aside the curtain of security and respectability from these places and show them as they really are. Someday, perhaps, we will look on sending family members into them with the same horror and revulsion we feel when reminded of what went on in places like Willowbrook 30 years ago.
Vacation is Over
by Sue Ruff
Vacations go by too quickly, but are great times to meet new people and see new sights. On my trip back north from a college-hunting jaunt with my daughter and friends, we stopped one afternoon at a rest area in North Carolina. We just needed some snacks and sodas and a brief stretch. A couple came into the vending area as we were buying our goodies and I noticed that the gentleman was using forearm crutches that had baby-size sneakers tied on the tips. I approached him and asked if I could ask him a question.

He said, "You want to know about the sneakers, right?" I nodded yes.

"Well, when my wife isn't looking, I like to chase women and they make my crutches go faster," he said with a grin.

His wife looked over from the soda machine, giving him one of those, "Here he goes with that old joke again" looks.

The man continued, "My crutches get slippery on wet terrain and I found these sneakers at K-Mart for about $9 to $10. They give me much better traction. But don't get those baby first walking shoes with the smooth leather soles, because they are too slippery. Look for size 2 or 3 running shoes with good rubber tread."

His wife joined us and said, "The best thing about those sneakers is that they are a great conversation opener, especially with little children. Kids used to be afraid to approach my husband and some thought the crutches meant he was in pain. Now they see the sneakers and come right over to talk to him."

The man said, "Last Saturday we went to a symphony concert and got all dressed up. A lady--you know, with the blue hair and furs on her shoulders--came over to us and said she thought the sneakers were cute, but this was a formal occasion and didn't I have something dressier to wear on my crutches? I told her I hadn't found any infant size 2 wingtips yet, but I'd keep looking."

As we all left the rest area, I told him I'd pass this tip along to people I knew. Maybe my co-workers and I will make a quick trip up to K-Mart and look for a pair of small sneakers to put on another co-worker's crutches. He's a Yankee fan--we'll look for navy blue and white.
Statewide Work Incentives
Toll-Free Number
The Statewide Technical Assistance line for questions on work incentive issues is up and running. It answers questions from advocates, concerned third parties and recipients on:
SSDI and SSI work rules
1619b Medicaid issues
Trial work periods
Extended periods of eligibility
Medicare-related questions
Budgeting issues
They also provide helpful written materials.

1-888-224-3272
DEAF NEWS
Interpreter World
by Carrie Watkins-Smith

Hello everyone!

I wanted to share with everyone an email that I received that I felt was important to pass along. Nancy Berlove at Sign Language Connection sent me this email saying:

"Has anyone ever been denied an interpreter at a doctor's office or with a lawyer? Have you been told to bring your own or that an interpreter is too expensive? Forced to write the whole conversation?"

They are collecting information to help them identify where education needs to happen. Please write them a brief description of your experience. Include when it happened, if it was a private practice, hospital, emergency room, large law firm. Also include what the response was from the doctor or lawyer's office. What did you do? And did it affect the care that you were given?

Please send your experiences to Jennifer Blatto at:


jb68@slc-inc.com


I would encourage you to email her and let her know your experiences as it might help educate doctor and lawyer's offices about the ADA law and Deaf rights. Maybe by sending in your experiences, it will put a dent in the barrier that we still are experiencing.
Julie's Corner
Hi there! As many of you may know by now, Pat Charma no longer works here at Deaf Services. I have accepted the offer to take over some of her duties, mainly the administrative work. John Greeno continues to volunteer as a Peer Counselor. I still assist the Interpreter Services Coordinator, Carrie, with interpreter requests. Here are our usual work hours:

Julie: Tuesdays, Thursdays & Fridays 9:15 am - 2:15 pm

John: Tuesdays through Fridays 10:00 am - 1:00 pm

Carrie: Mondays through Thursdays All day. Off on Fridays.

As always, an appointment is needed if you need to discuss anything with one of us. You may contact us to schedule an appointment, either by telephone:

724-2111 (voice/tty) or email:

deaf@stic-cil.org

Ready for summer fun?? Everyone's itching for warm days and picnics. Speaking of picnics, you are welcome to attend the events below, to meet old and new friends!

Have a wonderful and safe summer!!
OPEN-CAPTIONED
MOVIES
To see what open-captioned films are being shown practically monthly, at Hoyts Theatre on Upper Front Street, you can:

* Look up the Tripod Captioned Films at www.tripod.org.

* Check the Press & Sun-Bulletin newspaper for any captioned films, normally shown on a Tuesday and Wednesday, middle of each month, listed under Hoyts listing. It will show an asterisk (*) meaning captioned.
Southern Tier Deaf Club
SUMMER PICNICS
June 9
2:00 pm - dusk
Stacy Allen-Cross' house
Tracy Creek Road, Vestal

September 1
10:00 am - dusk
Chenango Valley State Park